Resources for Your Maui Visit
Index
Index to this page, just click on the subject:
Air Transportation to and from Maui
(just enter your day and time and click on "See Results on a Map". You will get a list of Maui's top restaurants and table availability!
---
Air Transportion to and From Maui
Return to Top

---
Information

Other Webcams
Return to Top
---
Ground Transportation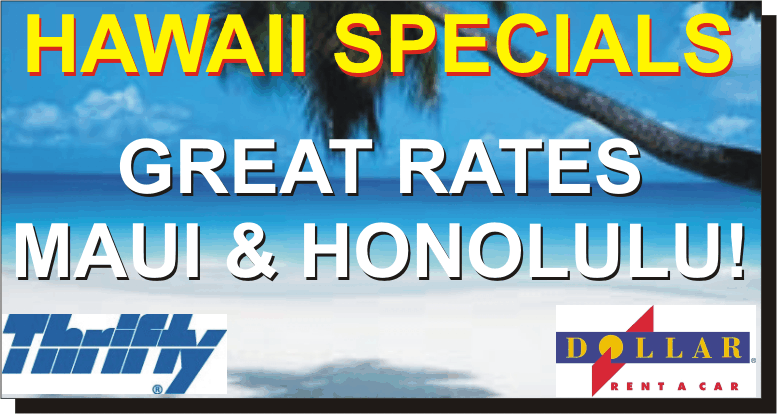 Save money on your next Hawaii rental car. We have partnered directly with Dollar car rental and Thrifty Rent a Car to offer you exclusive Hawaii rates. These are some of the most aggressively and lowest priced Honolulu airport car rental prices and Maui car rental prices anywhere. No credit card needed to make a reservation.

---
Maui Activities
---
---
Maui Wedding Music
---
Maui Hawaii Events Calendar
ONGOING SPECIAL EVENTS
ALOHA FRIDAY AT MAUI HOTELS
Local artisans display, demonstrate and sell their creations
W.O.W. WAILEA ON WEDNESDAY
The Shops at Wailea
(808) 891-6770
Every Wed., 6:30 pm – 9:30 pm
Artist displays, live entertainment, fashion events & restaurant specials
ALOHA FRIDAY CRAFT FAIR
Wailea Beach Marriott Resort & Spa
Every Fri., 9 am – 2 pm
RENAISSANCE WAILEA BEACH
RESORT CRAFT FAIR
Every Wed. and Fri., 8 am – 2 pm
HE UI CULTURAL ARTS FESTIVALS
Banyan Tree, Lahaina
(888) 310-1117 or (808) 667-9194
Varied weekends every month. Hawaiian artists sell and share cultural arts and crafts
BANYAN TREE CRAFT FAIR
Banyan Tree, Lahaina
(808) 667-9193
Various weekends every month
LAHAINA HERITAGE MUSEUM
Old Lahaina Courthouse, 2nd Floor
Open daily, 9 am – 5 pm
SUNSET CLIFF-DIVING
Sheraton Maui Resort, Kaanapali
Every evening just before sunset
WHALERS VILLAGE MUSEUM
Whalers Village, Kaanapali
Weekly Films, 9 am - 10 pm
FREE LEI MAKING CLASSES
Whalers Village, Kaanapali
(808) 661-4567
Every Tues. & Fri., 12pm – 2pm
KAAHUMANU CHURCH PICNIC WITH POKI
High Street, Wailuku
(808) 877-5566
Every 3rd Thursday
ALOHA CRAFT FAIR
Maui Mall, Kahului
(808) 872-4318
Every Friday, 10 am – 4 pm
Local artisans showcasing their handmade products
MAUI ARTS & CULTURAL CENTER
One Cameron Way, Kahului
(808) 242-2787
Concerts, theatrical performances by leading artists
MAUI FILM FESTIVAL
Maui Arts & Cultural Center
Every Wed., 5 pm & 7:30 pm
Outstanding contemporary films
NHRA DRAG RACING
Maui Raceway Park
(808) 281-1273
Exciting drag racing for the entire family
THE FAIRMONT KEA LANI TWILIGHT DINNER
Nightly, based on availability
(808) 875-4100
An elegant and exclusive dining experience
LANAI ART CENTER
"Stars Under the Stars"
Dole Park, Lanai
(808) 565-7503
1st Wednesday each month
MOLOKAI'S KUPUNA ENTERTAINERS
Hotel Molokai
Every Fri., 4 pm – 6 pm
The Lodge at Molokai Ranch
Every Sun., 7 pm

ONGOING FREE HULA SHOWS
MAUI MALL
Every Sat. and Sun., 1 pm – Hula Show
Every Fri., 6:30 pm – Hawaiian Entertainment
LAHAINA CENTER
Every Wed. 2:30 pm – Keiki Hula
Every Fri., 3:30 pm – Keiki Hula
LAHAINA CANNERY MALL
Every Sat. and Sun., 1 pm - Keiki Hula
Every Tues. and Thurs., 7 pm – Polynesian Dancing
WHALERS VILLAGE
Every Mon., 6:30 pm – 8 pm: Tahitian Show
Every Thurs., 3pm – 4 pm: Free Lessons
Every Wed. & Sat., 6:30pm – 8 pm: Hula & Tahitian Show
KAANAPALI BEACH HOTEL
Every Night, 6:30 pm - 7:30 pm
ONGOING OUTDOOR MARKETS
QUEEN KAAHUMANU CENTER, KAHULUI
Tues., Wed. and Fri., 7 am – 3 pm
MAUI MALL SHOPPING CENTER
Aloha Craft Fair and Farmer's Market
Every Tues., Wed. and Fri.
8 am – 5 pm
MAUI COMMUNITY COLLEGE
Aloha Friday Farmer's Market
Fri., 12 pm – 6pm
MAUI SWAP MEET, KAHULUI
Next to Post Office on Puunene Avenue
Sat., 7 am – 12 noon
EDDIE TAM FARMER'S MARKET
Eddie Tam Community Center, Makawao
Sat., 6am – 12 pm
MOLOKAI FARMER'S MARKET
Kaunakakai Town
Sat., 7 am – 12 pm
UPCOMING EVENTS
JULY - DECEMBER 2007
OCTOBER 2007
Aloha Festivals, Lanai
Xterra World Championship
Annual Maui County Fair
Halloween in Lahaina
Molokai Hoe Canoe Race
NOVEMBER 2007
Humpback Whales Return
Hula O Na Keiki
EA SPORTS Maui Invitational Basketball Tournament
Aloha Classic, the Grand Finale of the Hawaiian Triple Crown of Windsurfing
Hui Noeau Christmas House
DECEMBER 2007
Whale Watch Season Begins
Na Mele O Maui
Holiday Lighting of the Banyan Tree
The Ritz-Carlton, Kapalua Tree Lighting Ceremony
Lanai Christmas Festival & Tree Lighting Ceremony
Molokai Festival of Lights
---
Economic Development/Jobs
Digital Enterprises and Communications